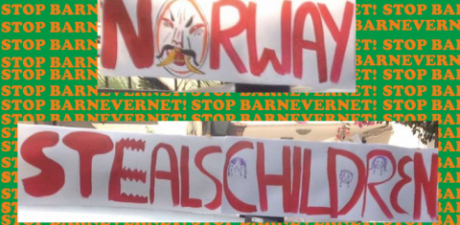 Den indiske advokate Suranya Aiyar har lagt ut en pressemelding og en underskriftskapanje angående en norsk barnevernsak:
Overzealous and biased Norwegian child protection authorities are wrongly removing children from loving families. Like many other cases, there is no evidence and baseless allegations against Aryan's parents. Aryan is traumatised, isolated in a Norwegian state institution and not receiving proper care. He is unable to eat or sleep. He is asthmatic and needs close, individual attention. He should not be left to strangers. Children are three times as likely to die in Norwegian state custody than otherwise. He has done no wrong. Let him return to his parents or be placed with other known relatives or friends while his parents prove their innocence. Over 100 Norwegian and international activists (reported here: Oslo Activists Back India
https://www.telegraphindia.com/1161229/jsp/nation/story_127409.jsp#.WGSM…) and many distinguished Indians have condemned Norway's child snatching. Please join the protest.
See details below:
LETTER TO INDIAN GOVERNMENT FROM INDIAN JUDGES, LAWYERS, ACADEMICS AND HUMAN RIGHTS PROFESSIONALS
23 December 2016
To,
Smt. Sushma Swaraj
Hon'ble External Affairs Minister
Ministry of External Affairs
South Block, Raisina Hill
New Delhi – 10001
Re: Wrongful snatching of 5 year old Indian boy from his family by Norwegian authorities
Dear Madam,
We have seen in newspaper reports that yet another Indian child has been cruelly snatched from his parents, Mr Anil Kumar and Ms Gurvinderjit Kaur, by authorities in Norway (Indian Express report of Shubhajit Royhttp://indianexpress.com/article/india/nri-parents-protest-as-norway-takes-custody-of-child-4439296/, Times of Indiahttp://timesofindia.indiatimes.com/india/nris-cry-foul-as-norway-takes-son-away-over-abuse/articleshow/56112341.cms ).
We denounce this repeated abuse of Indian origin families in Norway.
This is the fifth such case to our knowledge involving an Indian family in Norway since 2011. There may be many more which have not come to our notice. Time and again the allegations of the Norwegian authorities about the parents have turned out to be either distortions or outright falsehoods, and children once returned to their families have been doing very well, showing that their removal was both cruel and unwarranted.
Norwegian child protection authorities have come in for criticism globally for snatching children from families based on wrong assessments of abuse by the parents. Most of the cases are of foreigners working in Norway.
Barnevernet, the Norwegian child protection authority, has been criticised in the United States of America, Russia, Australia, Brazil, Romania, Czechia, Lithuania and India, among other countries, of incompetence, administrative highhandedness, cultural prejudice and racism.
This year alone there have been protests every month in Norway against wrongful child snatching by Barnevernet in which hundreds of locals and immigrants have participated. This has been covered in the international press, including by BBC World, Deutche Welle and RT.
Children taken into Norwegian state care are often mistreated, neglected and there have been cases of their being subjected to sexual abuse. In the current case, the parents have reported that their son is not being properly cared for in state care. When they visited him for the first time this Monday since he was taken, their son was wearing the same clothes and undergarments in which he had gone to school a week ago, from where he was taken by the authorities without any notice to the parents. He is also not been able to eat well as he is accustomed to Indian food.
The child is merely 5 years of age and greatly traumatised by the enforced separation from his parents. Video records of his interrogation by Norwegian authorities reportedly show him denying being beaten at home and there is a strong suggestion of leading questions having been asked.
We urge you to spare no efforts in ensuring that the boy is reunited with his family and placed with persons known to him and his language and eating habits in the interim.
It is also time for the Government of India to device a policy for the protection of children caught up in such situations overseas. The right of children to maintain their filial and cultural ties is well recognised in international law. Where the child has relatives in India, there should be a mechanism for repatriating him to his relatives here, if his family is willing. This will minimise the trauma of small children being placed in an institution or with strangers who are unaware of their language, eating habits and other aspects of their care and comfort.
With regards,
Yours sincerely,
Brinda Karat, CPI (M), former Member of Parliament
Mariam Dhawale, General Secretary, All India Democratic Women's Association (AIDWA)
Mohin Giri, former Chairperson, National Commission for Women and Guild of Service
Dr John Dayal, Activist and Writer
Justice (retd.) Mukul Mudgal, Former Chief Justice, Punjab & Haryana High Court
Justice (retd.) AP Shah, Former Chief Justice, Delhi High Court
Vinod Tikoo, former Member, National Commission for the Protection of Child Rights
Mani Shankar Aiyar, Congress Party, former Member of Parliament
Gurcharan Das, Author & Commentator
Indira Jaising, Supreme Court Advocate and Former Additional Solicitor General of India
Natasha Badhwar, Writer, Activist and Columnist
Professor Nandita Chaudhary, Child Psychologist
Vasanthi Raman, Women and Child Rights Activist and Commentator, Convenor, FORCES-CWDS Network
Sehba Farooqui, Vice President, Janwadi Mahila Samiti Delhi
Nandita Rao, Lawyer and Human Rights Activist
Dr A Kalyan Chakravarty, MD, MRC Psych (UK), Consultant Child and Adolescent Psychiatrist and Family Counsellor
Ratnaboli Ray, Mental Health Right Activist and Commentator
Kalyani Menon-Sen, Feminist Activist & Independent Researcher
Sumi Krishna, Independent Researcher, former President, Indian Association for Women's Studies
Kamayani Bali Mahabal, Lawyer and Activist, www.kractivist.org
Suranya Aiyar, Lawyer and Mother
Comments
comments